It is safe to say that pipe connections are an essential part of pipelines all around the world. They ensure that whatever substance is travelling through the pipe has a continuous smooth flow.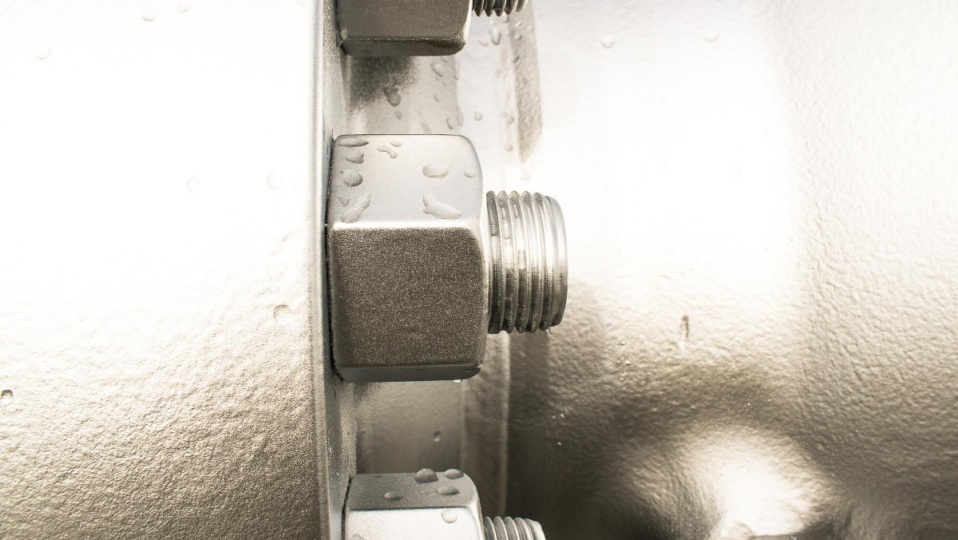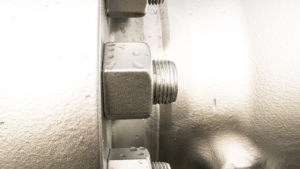 Pipe connections have many uses; Among other things they help pipelines to be many miles long, help to change the direction of the flow, allow for maintenance to be carried out and for valves to be changed.
Here at SPM we source and supply a wide variety of different pipe connections such as threaded connectors, nuts & bolts and hub clamp connectors. These come in a range of exotic materials such as stainless steel, duplex, super duplex, nickel alloy and 6% alloy. The pipe connection used in a pipeline is often made of the same material as the pipes it is connecting.
The pipe connections we are discussing in this blog (threaded connectors, nuts & bolts and hub clamp connectors) can be used on a permanent basis but are more often used as semi-permanent connections.
For information on a permanent connection used in pipelines, please refer to our blog on buttweld fittings and bevelled ends.
Threaded Connectors
Threaded – or screwed – connectors are used regularly to connect pipes when water, steam and other various fluids and gases need to be transferred from one place to another. A risk with threaded connectors is if they are over-tightened which means then they can be damaged and thus be very difficult to separate.
The most common threaded connections are BSP & NPT:
 – BSP stands for 'British Standard Pipe' and is a British standard. There are two types of BSP threaded connectors – parallel (BSPP) and taper (BSPT). BSPP is mainly used in the UK, Europe, Asia, Australia, New Zealand and South Africa. BSPT is mainly used in China and Japan. Both of these threads feature the same pitch, the same angle (55 degrees) and the same shape (rounded peaks and valleys).
 – NPT stands for 'National Pipe Thread' which is an American standard. NPT threads are typically tapered. Both threads have the same pitch, shape (flat peaks and valleys) and angle (60 degrees). These threaded connectors can be used without sealant due to the taper itself, but this also depends upon the material it is made from.
Flanged connections
Flange connections are very important in the petroleum and chemical industries, and bolts and nuts are an essential part of them.
The most common flange connections are:
 – ANSI which is an American standard
 – PN / DIN which is a European standard
 – JIS/KS which is a Japanese / Korean standard
 – In the UK you will find both ANSI and PN in use
The most popular type of flange connections that SPM stocks are as follows:
 – ASA150
 – ASA300
 – ASA400
 – ASA600
 – ASA900
 – ASA1500
 – ASA2500
In order to clamp two flanges to together, nuts and bolts are vital. The quantity required will be determined by the number of bolt holes in a flange, while the diameter and length of bolts is dependent of flange type and Pressure Class of flange.
In the petro and chemical industries Stud Bolts and Hex Bolts are most frequently used for flange connections. The Stud Bolt features a threaded rod with two robust hexagon nuts, while the Hex Bolt has a head with just one nut.
Stud Bolts:
 – Stud Bolt length is defined in ASME B16.5 standard.
 – The material qualities for studs are defined in the different ASTM standards, and are indicated by Grade.
 – ASTM A193 covers alloy and stainless steel bolting material for pressure vessels, valves, flanges, and fittings for high temperature or high pressure service, or other special purpose applications.
ASTM A194 covers a variety of carbon, alloy, and martensitic and austenitic stainless steel nuts. These nuts are intended for high-pressure or high-temperature service, or both.
Hex Nuts:
 – Hex nuts are defined in ASME B18.2.2
 – Depending on a customer specification, nuts must be both sites chamfered or with one side a washer-face.
Hub clamp connectors
Hub clamp connectors are lighter, smaller, faster to make and break, and easier to maintain than conventional flanges. Stringent engineering processes and quality standards can result in unparalleled reliability meaning they have a wide range of benefits and applications. Two of the most reputable manufacturers of hub clamp connectors are Techlok® and Grayloc®.
A hub clamp connector is typically assembled with 4 bolts compared to the 24 bolts on a conventional flange. The design of a hub clamp connector results in a very well-sealed pipe, where often the  connector can surpass the strength of the pipe and other components that may also be connected. Their design means that the hubs around the pipe edges are pulled together by clamps and are forced against the seal ring rib. The clamp takes the pressure of the pipes and carries the load. These connectors have the capability to survive extreme environments situations even without routine maintenance.
Benefits:
 – Clamp connectors can be up to 75% lighter and smaller than a comparable ANSI or API flange.
 – There is less bolting required with saves both time and money.
 – 360° orientation around the pipe is possible.
 – Maintenance downtime of the pipeline can be minimised due to the fast assembly and disassembly of hub clam connectors.
Clamp connectors are used for the following applications:
– For oil and gas production where they create rigid and flexible flowline connections and can withstand extreme conditions such as in the North Sea. They can also be used for Pig launchers and receivers.
 – Nuclear Fuels where they were first designed to be used as mechanical joints handling radioactive materials and more recently, they can be frequently found in isolated hot-cell environments.
 – Petrochemical and refinery settings where they are used for things such as inlet feed line connectors and for relief of pipe stresses due to thermal expansion
 – Research and Development settings as they are well-suited for high-pressure and high-temperature testing and therefore are used for quick-opening closures for laboratory pressure vessels.
#SpecialPipingMaterials #PipeConnections #NutsandBolts #ClampConnectors #ThreadedConnectors #FlangeConnections #StainlessSteel #Duplex #SuperDuplex #NickAlloy #Moly