Pipe fittings come in many forms with the most common being threaded fittings, socket weld fittings and buttweld fittings. This blog will explore the advantages of all three types, but especially the advantages of buttweld fittings and their applications.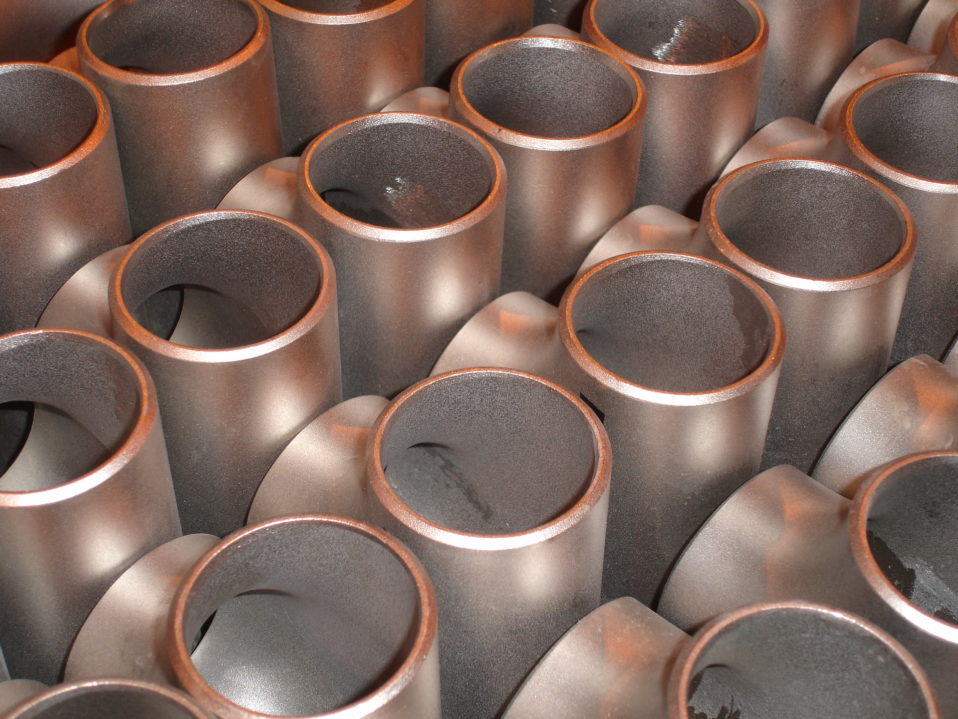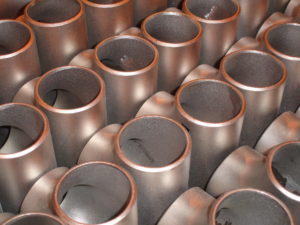 Pipe fittings are essential parts of pipelines as they allow for the following:
– A change in direction for the liquid flowing through the pipes
– Branching of the pipe to allow the liquid to flow in two separate directions
– A reduction in pipe diameter
– The attachment of auxiliary equipment
– The end of the pipeline
All the buttweld fittings supplied by Special Piping Materials are designed in accordance to ASME standards. They can be sourced from specialised manufacturers in many different materials including Super Duplex, Nickel Alloy, Stainless Steel, Duplex or even 6% Moly.
Threaded Fittings
Threaded fittings are mainly used for small pipe diameters and are probably the oldest method of joining piping systems. It is most commonly used in low-cost and non-critical applications. For example, threaded joints are often found in domestic water systems or industrial cooling water systems. They are less commonly used in high pressure and highly corrosive environments due to their vulnerability to fatigue damage and corrosion.
Threaded fittings are best for low-pressure and low-temperature installations where there is little chance of vibrations that could damage the integrity of the fitting.
The dimensional standards for threaded (screwed) fittings in Class 2000, 3000 and 6000 are given in ASME B1.20.1.
Socket Weld Fittings
Socket weld fittings are when the pipe is inserted into a recessed area of a flange, fitting or valve. They are generally used in scenarios when the pipe dimensions are smaller, but the pipe work is permanent. They are used in various industrial processes such as the transportation of flammable, toxic or expensive material where no leakage can be permitted
Socket weld fittings Class 3000, 6000 and 9000 are manufactured in accordance with ASME B16.11. They have several advantages:
– Construction costs are relatively low
– The pipe ends do not need to be bevelled. This is because both the pipe and the fitting are square cut. This allows easy welding and installation.
– The reduce the risk of leakage in comparison to threaded fittings
– The metal used to weld the fitting will not be able to penetrate into the bore of the pipe.
– The fitting itself ensures proper alignment so temporary tack welding is not required.
Due to the nature of the fitting, socket weld fittings do have certain disadvantages. The main disadvantage is that the potential gaps and internal crevices can leave the fitting vulnerable to corrosion or build-ups. This can cause operating or maintenance issues.
Buttweld fitting
Manufacturing:
A buttweld fitting is manufactured by the process of hot or cold forming, which means that it is bended and moulded to the correct shape. They are also heat treated to remove residual stresses and to achieve specific mechanical properties.
The ends of buttweld fittings have to be bevelled and the exact shape of the bevel depends upon the wall thickness of the pipe it is being attached to. The material of a buttweld fitting can be any one of a number of exotic materials such as super duplex, nickel alloy or 6% Moly. The majority of the time, the material of the fitting is the same as the pipe system that it is welded to.
Buttweld fittings are defined in the ASME B16.9 standards, with light-weight corrosion resistant fittings made to MSS SP43 specifications.
These valuable fittings are available in many different shapes, dependent on the intended purpose:
– 'Elbows' are used to alter the pathway of a pipeline
– 'Reducers' are needed to reduce or increase the size of the pipe bore size
– 'Tees' or 'Crosses' are used to split the flow in the pipe multiple ways
– 'Caps' are used if the pipeline needs to be closed off
Applications:
Buttweld fittings can be used in a wide variety of industries to alter, divide or end the flow of fluids. These operations include the following: waste treatment facilities, chemical processing, breweries, petrochemical facilities, cryogenic plants, paper production, gas processing and even nuclear power plants. The wide range of applications demonstrates the robustness of a buttweld fitting and how much this particular type of fitting is relied upon.
Advantages:
Buttweld fittings can withstand pressures and temperatures in very harsh environments. They are generally considered to be the most robust welding fixture, no matter what industry it is required for. However, they do take a considerable time to fit and a highly skilled installer is required to weld them correctly on site.
– Welded connection offers a more robust, a stronger and a more leak-proof piping connections.
– The nature of the continuous metal structure provides added strength to the overall piping system.
– The smooth inner surface and gradual directional changes provide a seamless flow, thus minimising pressure drops and turbulence inside the pipe.
– Provide the option of various different turn radiuses due to the manufacture of Short Radius fittings, Long Radius fittings and 3R Elbows.
– They are cost effective compared to the counterpart fittings in the threaded or socket weld varieties.
– They have a long service life and are cost effective to purchase and deploy.
– Buttweld fittings can withstand corrosion and erosion more effectively than its socket weld and threaded equivalents.
– A welded system uses comparatively less space that the other alternatives.
Special Piping Materials supply of Buttweld Fittings
Here at Special Piping Materials, we have worked with specialist mills and manufacturers for many years to source a wide range of high quality and reliable buttweld fittings. We have a variety of different fixtures available in different sizes and materials.
All our products are fully tested to international standards so you can be safe in the knowledge that you are buying high quality products. Speak to our sales team today in one of our offices across the globe.