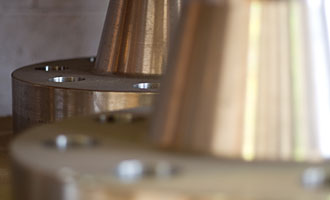 A product that Special Piping Materials sells a lot of is the humble pipe flange. Whether it's a Weld Neck Flange, a Blind Flange, a Slip-On Flange, a Lap Joint Flange or even a Semi-Finished Flange – you name it, we can source and supply it.
What is a pipe flange?
A pipe flange is an external or internal ridge between two pipes that provides a method of connecting pipes, valves, pumps and other equipment to form an overall piping system.
In many applications, engineers need to find a way to close off a chamber or cylinder in a very secure fashion because the substance inside must differ from the substance outside in composition or pressure. They do this by fastening two pieces of metal or other material together with a circle of bolts on a lip. This "lip" is a flange.
Flanges can also provide easy access for cleaning, inspection or modification and pipes with flanges can be assembled and disassembled easily. Flanges tend to be either welded or screwed into place.
Pipe flanges are manufactured in all different materials like stainless steel, cast iron, aluminium, brass, bronze, plastic etc. but the most common material is forged carbon steel and they usually have machined surfaces. The material of a flange is basically set during the choice of the pipe, in most cases, a flange matches the material of the pipe so if you choose a Super Duplex Stainless Steel Pipe then chances are that your flange will match it, and the same story goes whether you need a Nickel Alloy piping system or even a 6% Moly one.
Whatever your application requirements, rest assured that Special Piping Materials' stock of flanges have been fully tested to international standards to ensure we only supply the highest quality products. All of Special Piping Materials' stock of flanges are ASME (American Society of mechanical engineers) B16.5 rated and we can supply customised products, to the specifications of any drawing or other international standard.
What are the different types of Pipe Flanges?
Here at Special Piping Materials, we supply many different types of flanges, some of which we have detailed below. It is important to note that any of these flanges can be either Ring-Type Joint Flanges or Raised Face Flanges.
Ring-Type Joint vs Raised Face
Ring-Type Joint Flanges are often thought to be one of the most efficient flanges in pipeline design. Instead of using a gasket between connecting flanges, Ring-Type Joint Flanges have grooves cut into their faces with steel ring gaskets. When the bolts connecting the flanges are tightened, the gasket is compressed between the flanges into the grooves. This, in turn, creates an extremely tight and leak-proof, metal-to-metal seal.
The grooves and gasket must stay aligned throughout the operating cycle in order for the seal to remain intact. This is especially important if you are flanging together different metals, for example, stainless steel and carbon steel.
A benefit of using a Ring-Type Joint Flange is that the groove within the flange ensures the ring centres itself when the bolts are tightened. This also means it is self-actuating – so the sealing pressure increases as the process pressure increases.
The Ring-Type Joint Flange was initially developed for high pressure and high-temperature situations in the petroleum industry, where high-pressure applications necessitate the need for an extremely high integrity seal. These days, Ring-Type Joint Flanges are often used in oil fields on drilling and completion equipment but can also be found on valves and pipework assemblies, along with high-integrity pressure vessel joints.
As the alternate product to Right-Type Joint Flanges, Raised Face Flanges are commonly used in process plant applications and are easy to identify; As the name suggests, the gasket surface is raised above the bolting circle face. This design of face type means that a Raised Face Flange can be used with a wide combination of gasket designs such as metallic composites and flat ring sheet types.
A Raised Face Flange has a very specific purpose; To concentrate more pressure on a smaller gasket area and therefore increase the joint's ability to contain the pressure. Interestingly, the pressure rating of the flange determines the height of the raised face.
It is a very versatile flange and can be used in almost all applications in high and low pressures and temperatures meaning that Special Piping Materials regularly supplies this type of flange to our customers.
Weld Neck Flanges
A Weld Neck Flange (which can also be known as a high-hub flange or a tapered hub flange) consists of a circular fitting with a protruding rim around the circumference. Weld neck flanges are usually forged and then are typically butt-welded to a pipe which successfully transfers stress away from the flange and to the pipe instead.
Weld Neck Flanges are suitable for use in hostile environments that have extremes of temperature, pressure or other sources of stress. This type of flange has been used successfully at pressures up to 5,000psi.
Special Piping Materials can source Weld Neck Pipe Flanges in all steel material grades, including carbon, stainless steel and alloy. We also have many different weld neck pipe flanges in stock and ready to ship and have relationships with some of the best mills across the globe which allows us to source the exact type of Weld Neck pipe flange that our customers require.
Blind Flanges
Essentially, a Blind Flange is a plate for covering or closing the end of a pipe to block off a section of pipe or a nozzle on a vessel that is not used. It also allows easy access to the interior of a line or vessel if it needs to be reopened after it is sealed.
It is not unusual for a Blind Flange to block off a nozzle for pressure tests in a plant, or simply because not all of the nozzles within the piping system are required at all times.
Blind Flanges, just like standard pipe flanges, can either be raised face (RF) or flat faced (FF).
Special Piping Materials is able to source the best precision-engineered Blind Flanges from manufacturers across the world for use in all manner of industries such as petrochemical, pipe engineering, public services & water works.
Slip-On Flanges
This is another flange which is obvious due to its name – a Slip-On Flange slips over the pipe, or possibly elbow, that they are being joined to. To allow this to happen, they are specifically manufactured so that their inside diameter is slightly bigger than the pipe's outside diameter. Slip-On Flanges are then connected to the pipe via a 'fillet weld' at the top, bottom, inside and outside of the flange which ensures the strength of the join.
Slip-On Flanges can be found with both a raised or a flat face and are usually easier to align than a weld neck flange. This flange is ideal for low-pressure applications
Lap Joint Flanges
Lap Joint Flanges consist of two parts; A stub end and the backing flange. A pipe is usually welded to the Stub End via a gasket and then the backing flange is not welded or fixed in any way which means it is free to rotate around the stub end for proper alignment with whatever it is joining to.
If your piping system requires frequent dismantling for things like inspections or cleaning then a Lap Joint Flanges should be considered. This is because they give the ability for the flange to swivel around and to align bolt holes which simplifies the assembly of large diameter or unusually stiff piping.
Lap Joint Flanges are typically seen in low-pressure applications and are considered to be not suitable when there is likely to be high loads on the flange.
Semi-Finished Flanges
Last but not least, Semi-Finished Flanges are simply unfinished stainless-steel flanges that have already undergone some machining processes but are not the complete article yet. These pipe flanges provide Special Piping Materials with the ability to quickly source the exact type that our customers require as they can be machined to very precise specifications.
Links: Wikipedia Def,