Subsea oil and gas installations are a key component of the overall oil and gas sector that many industry professionals couldn't imagine life without.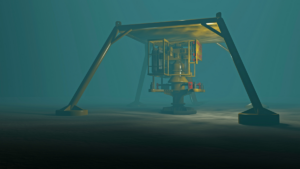 They allow companies across the sector to explore areas previously viewed as completely hostile. Subsea environments pose challenges to every part of the exploration, installation and extraction processes, with complex infrastructures required to ensure that oil and gas flow is both efficient and effective.
With operations moving into increasingly deep water, these challenges and the hostile environments they are in become even more intense.
One of the main difficulties in subsea oil and gas installations is that every project is different, with multiple risk factors that have to be assessed and unique solutions created.
Risk factors include poor installation, excess stresses, overload, corrosion, fatigue and cracking risks, all of which can cause subsea systems to fail, with unthinkable consequences.
One of the key aspects of planning a subsea oil and gas installation is the initial assessment and evaluation of the seabed where it is to be located. This part of the installation is usually crucial to the whole project and can determine much of the subsequent component requirements – like materials, piping systems, cables, rigs etc.
History of subsea oil and gas installations
The history of subsea oil and gas installations can be tracked back to the first known oil well which was drilled in Pennsylvania  in 1859. The development of this well led to the first offshore oil field and these offshore wells were then followed by the conception of subsea installations similar to modern systems.
Subsea wells then became increasingly in demand as exploration for oil and gas began to venture into deeper and deeper waters.
As fabrication, transportation, and installation technologies have become progressively more advanced, single piece structures started to become possible in very deep water.
This means that subsea production wells like we know them today have been around for around 60 years. The first system to be completed was located in the Gulf of Mexico in the West Cameron field at a water depth of 55 ft.
This system paved the way for hundreds of subsea systems to be designed, built and installed across the globe. These systems range in complexity and each one is unique due to the particularities of the environment that it is based on and the transportation requirements they demand.
Floating production, storage, and offloading systems (FPSOs) are one example of how subsea production facilities have developed. They demonstrate how the designs of these systems have changed so dramatically in design in order to fit around the challenging locations they need to be placed in.
With exploration going further every year and ever-more challenging environments being relied upon for the supply of oil and gas, it is safe to say that the future of subsea oil & gas installations will be very interesting indeed.
How do subsea oil and gas installations operate?
While each system is unique, there are certain components of subsea oil and gas installations that can be commonly found:
 – Oil, gas and water flow from wellbore to subsea trees before reaching risers that pipe it to surface for processing
 – Pressurised reservoir fluid samples are collected in an open hole wellbore to be analysed at the surface
 – Subsea trees feature pressure control valves and chemical injection ports
 – Subsea booster pumps help to move fluids along the length of the flow line to the platform's production deck
 – Umbilical lines from the platform supply electric and hydraulic power for wellhead and/or manifold control functions
 – The umbilical lines also carry bidirectional communications and control instructions between the platform, wellhead and downhole devices
Special Piping Materials and subsea oil and gas installations
The environments that subsea oil and gas installations are located in are known to be extremely hostile. They are corrosive, can have extremes of temperature, can be toxic and can exert extreme pressure on the systems that are there.
Given these factors, the materials and products that are selected to be used in these environments have to be of great quality and specially chosen to be able to continue to perform, despite the extra pressures on them.
This is an area that Special Piping Materials knows a lot about as special grades of metal have been developed over the years to cope with these extreme pressures. Two of these metals are Duplex stainless steel and Super Duplex stainless steel.
Duplex and Super Duplex metals are often used in subsea oil and gas installations due to their many benefits:
 – Very high strength, especially in relation to their low weight
 – Relatively maintenance free, thus lowering life-cycle costs
 – Very high ability to resist corrosion, even specific types such as pitting corrosion resistance and intergranular corrosion
 – Very high tensile and yield strength
 – Very good weldability
Duplex and Super Duplex Stainless Steel are both highly durable and therefore they can regularly be found in subsea piping installations in systems such as separators, scrubbers, pumps, manifolds, heat exchangers, flowlines and storage tanks.
#SpecialPipingMaterials #Subsea #Oil #Gas #OilandGas #Corrosion #Duplex #SuperDuplex