Here is our Special Piping Materials interview with Anthony Clegg. Anthony works at Special Piping Materials' head office in Manchester as our Key Account Manager.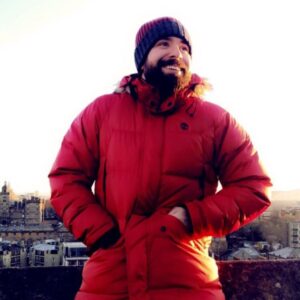 Anthony works to develop great working relationships with our clients and to expand our client base into existing and new markets. He has been an integral member of the team for many years and his skills as a sales professional and industry expert are highly valued.
Anthony's work helps to ensure that our range of high specification pipes, fittings and flanges are used in some of the most demanding environments around the globe. He provides our clients with the high level of service they expect from Special Piping Materials.
Read on to find out more about Anthony's role in the Special Piping Materials team.
How long have you worked with SPM?
In total around 8 years. Interestingly I previously worked with SPM but moved on elsewhere for a while to gain more industry knowledge and experience. I came back to the Special Piping Materials team just over two years ago.
Can you give us an overview of your career so far?
I started out on day-to-day sales with SPM, quoting stock enquiries, then moved onto sourcing and package compiling for end users. I was lucky enough to spend time in Brazil, helping set up the warehouse in Rio de Janeiro before moving into business development and purchasing. I'm now in a role of account management and very much enjoying getting to know my clients so well.
What's your favourite (and least favourite) day-to-day task?
My favourite task would be engaging with clients and discussing their current requirements, as well as having general conversations with them. My least favourite would certainly be a heavy admin day! Keeping our details up to date on supplier databases is a very important job but it can get rather repetitive!
What made you want to work for SPM?
More specifically for my second time with the company, it is the working environment and the people that I work with that made me want to come back! I really enjoy the job role that I have, and every day is varied and a challenge – in a good way!
What is your focus at the moment in your role?
As the UK is looking to become a carbon neutral country in the immediate future, I am currently focusing on opportunities for SPM in renewable markets. A particular focus is on how our products can be used in the hydrogen market, with that being a big driving force behind the UK's move towards becoming carbon neutral.
What does a typical 'day in the sales office' look like?
A quick check over the inbox, followed by a coffee to get the day started. I will have a quick chat with the sales staff to see what jobs we are currently working on and potential work to come, then get stuck into the day ahead. As my days are quite varied, there could be meetings with staff or clients, putting together quotations, discussions with suppliers, or my car could be the office for the day as I'm out to meet with clients or attend trade shows. No two days are ever the same!!
What do you think the future holds for the piping world?
There will always be a requirement for our products for a wide variety of industrial applications. It's important for us as a company to be constantly evolving in order to be able to supply many different markets with our high performing products.
What keeps you motivated at work each day?
Knowing that every single day presents a different challenge. One day I can be working on a small requirement that a local fabricator may have, the next I can be working on a large-scale project for an EPC company. I enjoy building a rapport with different clients from various backgrounds in order to create a strong working relationship.
How do you relax after a hard day's work in the office?
I usually like to get myself straight to the gym for a swim, before getting home and getting on the PlayStation or watching movies. I do enjoy cooking and if I'm lucky Man Utd are playing… although watching them play isn't exactly relaxing!!
If you had to choose another office around the world to work in, which would it be and why?
Houston! For personal reasons I have a love for basketball, and they have some amazing golf courses to be played. From a more professional point of view, America is a huge market and as I am sales focused, I would very much enjoy helping to grow the company over there.
We hope you enjoyed this Special Piping Materials interview with Anthony Clegg!
#Interview #SpecialPipingMaterials #UK #Manchester #UKBusiness #ManchesterBusiness #SuperDuplex #Duplex #NickelAlloy #Moly #OilandGas #Petrochemical #Desalination #LNG #Piping #Offshore #ExoticPipe #StainlessSteel #Hydrogen