Special Piping Materials' Houston office first opened in 2008 and since then has seen rapid expansion and has been involved with many large projects.
The company is now known for its 60,000 sq. ft warehouse which stocks one of the largest inventories of Duplex and Super Duplex pipe, fittings and flanges in North America. New high-quality stock arrives every week to service the high expectations of the team's expansive client base.
The future looks bright for the office, with expansion looking likely and new clients regularly coming on board.
Instrumental to this success is Warehouse Operative Juan Reyes who works extremely hard to keep the warehouse organised and operating efficiently.
Read this Special Piping Materials interview with Juan Reyes to find out more about his role!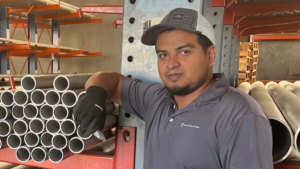 How long have you worked with SPM?
7 years nearly – since July 2015. Time flies!
Can you give us an overview of your career so far?
I started at SPM Texas as a delivery driver and then moved into the more extensive role in the warehouse.  My duties include receiving stock, filling orders, and keeping and organising stock.
What's your favourite (and least favourite) day-to-day task?
My favourite thing is pulling orders for customers and my least favourite thing is putting stock back for cancelled orders – this happens very rarely but it's very frustrating when it does!
What made you want to work for SPM?
I was in need of a job, and I was familiar with fittings and flanges as I had worked with them before. Working at SPM seemed like a perfect opportunity!
What is your focus at the moment in your role?
To eliminate mistakes and make sure there are fewer to no discrepancies in the warehouse on a day-to-day basis.
What does a typical 'day in the office' look like?
I spend my days loading and unloading trucks, organising packaging and preparing orders for shipment.
What do you think 2023 will bring to the piping world?
Hopefully more work and orders! 2022 was an exciting year for us and we are all looking forward to an even better year ahead!
What keeps you motivated at work each day? And how do you motivate your team?
Making sure that our customers are getting the highest quality service possible and helping each other to be the best we can be as a team.
How do you relax after a hard day's work in the office?
I enjoy family time at home!
If you had to choose another office around the world to work in, which would it be and why?
The UK office, I have always wanted to visit England.
We love the people who work for us – we hope you enjoyed this Special Piping Materials interview with Juan Reyes!
#Interview #SpecialPipingMaterials #Texas #Houston #America #SuperDuplex #Duplex #NickelAlloy #Moly #OilandGas #Petrochemical #Desalination #LNG #Piping #Offshore #ExoticPipe #StainlessSteel #Hydrogen