LNG supply and demand in Africa has been progressing steadily for many years. It is thought that the focus on LNG in the region will most likely shift to further development of existing projects rather than the sanctioning of new developments.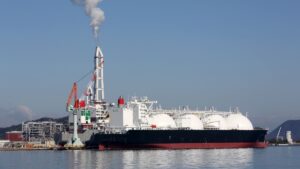 According to a report published earlier this year by the African Coalition for Trade and Investment in Natural Gas (ACTING), Africa is expected to witness the biggest growth potential in gas consumption by 2040, with an annual growth rate expected at some 3.2%.
Some 13 countries in sub-Saharan Africa burn gas for power generation, of which 10 (including Angola, Cameroon and Nigeria) use their own domestic gas production. Togo and Benin are reliant on imports and Ghana uses a combination of domestic production and imports.
Demand for LNG is growing across the world as it is being viewed as a cleaner energy source. Management consulting firm McKinsey and Company estimates LNG demand to increase 3.4% per year till 2035. In 2020 LNG demand grew by 1.0%, while gas demand decreased by 3.0%.
In this blog we'll take a look at trends and recent news about LNG supply and demand in Africa.
What is LNG?
LNG is the acronym for liquefied natural gas. LNG is natural gas that has been cooled down to approximately -260F, to its liquid form to store and transport it more safely and easily.
LNG is usually transported from areas with a large supply of natural gas to areas that need it. Once the LNG is delivered to where it needs to go, the natural gas is reheating which allows it to expand and convert back to its gaseous form, a process called 'regasification'. Once 'regasified', the natural gas is dispersed to consumers via a network of pipelines.
LNG is odourless, colourless, non-toxic and non-corrosive. It also takes up about 1/600th the volume of natural gas in the gaseous state which makes it much easier to ship and store when normal pipeline transport is not feasible.
As world energy consumption increases, industry experts are predicting that the LNG trade will grow in importance on a global scale. One of the factors driving the popularity of LNG is that it is being considered as an alternative source of fuel for automotive vehicles and other uses rather than just a means of transport.
The current largest exporters of LNG are Australia and Qatar, with the US expected to overtake them in the next few years, while the largest demand for LNG comes from China.
Recent trends in LNG supply and demand in Africa
Some of the most interesting developments in recent years have been in Mozambique and Nigeria. The Mozambican market alone consumes about 30 petajoules (PJ) per year of natural gas to gas-to-power and industrial off-takers. The vast majority is supplied through the MGC network which is also connected to the 865-km Rompco pipeline.
Here are some of the most recent advances in the market in Mozambique and Nigeria:
 – The $2.5 billion Coral South FLNG Project (which has a capacity of 3.4 million tonnes per annum) is the first LNG project in Mozambique to begin operations. It will develop the resources of the Coral gas field in Mozambique's Rovuma Basin, which is estimated to hold approximately 16 trillion cubic feet of gas.
 – The Mozambique LNG Project first started when a vast quantity of natural gas was discovered off the coast of northern Mozambique in 2010. This led to a 20 billion Final Investment Decision in 2019. The project is currently thought to be on track to start delivering LNG in 2024.
 – In 2020 it was announced that the front-end engineering design phase for a proposed greenfield liquefied natural gas (LNG) import terminal at the Port of Matola, in the Mozambican capital of Maputo, was underway. In 2019, Mozambique awarded the LNG import concession to BGC (Beluluane Gas Company) and approved the construction of a 16-km, 28-inch pipeline linking the terminal to the existing Matola Gas Company (MGC) transmission network.
 – In May 2020, Nigeria LNG Ltd (NLNG) signed a US$3 billion corporate loan to finance the construction of its seventh LNG train. This project, a joint venture between the Nigeria National Petroleum Corporation and IOCs Shell, ENI and Total, is expected to boost Nigeria's LNG output by nearly one-third.
Recent news in LNG supply and demand in Africa
 – Ghana becomes LNG Importer: Ghana is preparing to become sub-Saharan Africa's first LNG importer, with the terminal at the port of Tema set to receive its maiden cargo in the coming weeks.
In 2015, Egypt became the first — and only — African country to import LNG, but this is expected to change with Ghana starting to begin LNG imports. The LNG will be supplied under a long-term contract with Shell.
Risk consultant Pangea-Risk said last month that the inclusion of LNG in the energy mix was "critical" for Ghana's growth and development and would boost its clean energy transition with gas displacing heavier fuels.
"By selecting gas as a transition fuel and connecting to the global LNG supply chain, Ghana has secured first-mover advantage in the push for a greener future," it said.
 – South Africa's 1st LNG consignment. South African LNG infrastructure provider DNG Energy has received South Africa's first-ever consignment of LNG from Rotterdam
This is a significant milestone for South Africa and is the foundation to the commission of DNG's first floating storage unit delivery in the first quarter of 2022
CEO of DNG Energy, Aldworth Mbalati, said: "The arrival of the LNG consignment is an inflection point for South Africa's energy market; marking a key moment in our shift from coal-fired and oil-fired power generation to cleaner alternatives."
"In the context of South Africa's just energy transition, LNG represents an excellent alternative that will help cut GHG emissions, reduce air pollution and help combat global warming. It will play a key role in helping the country meet its carbon emission goals and providing power to a growth population as the world transitions towards a zero-carbon energy future."
#SpecialPipingMaterials #LNG #LiquifiedNaturalGas #Africa #SouthAfirca #Oil #Gas #OilandGas #energy #Discovery #LatestNews