Gary Rusnak has worked with Special Piping Materials since 2016 and has been a valued member of the team in Texas ever since he joined us.
As Warehouse Manager he has oversight of the 60,000 sq. ft warehouse which has one of the largest inventories of Duplex and Super Duplex pipe, fittings and flanges in North America.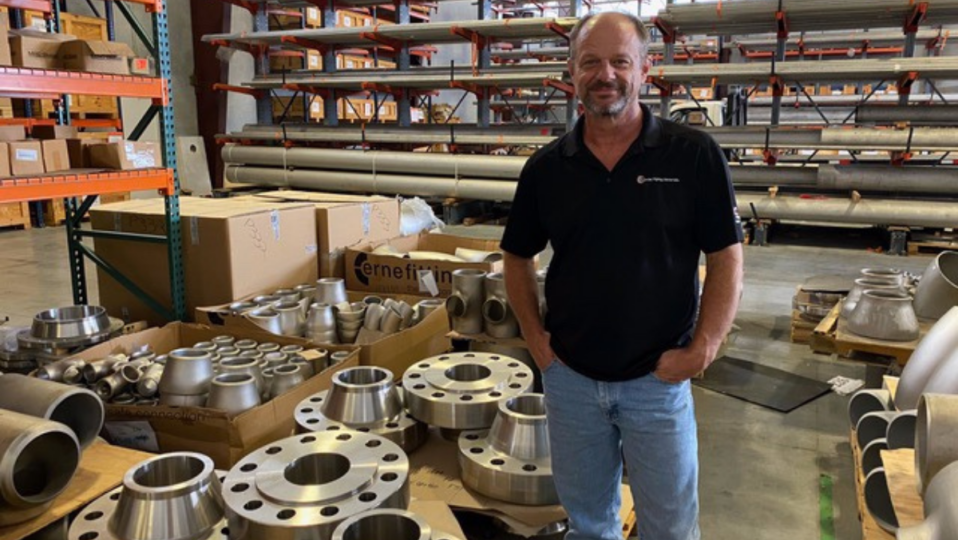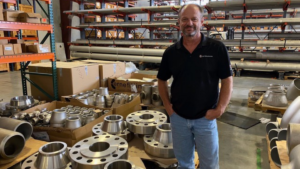 The warehouse gets new deliveries of high-quality stock every week and is a vital part of the service that we provide to our clients. Without an efficiently operated warehouse, our deliveries and projects wouldn't be nearly so seamless or professional!
The Houston office initially opened in 2008 and enjoyed rapid expansion over the subsequent years. The team works extensively within the Oil & Gas, LNG and Petrochemical industries in North America and beyond.
Read on to find out more about Gary's work and role within the team.
How long have you worked with SPM? 
I started working for SPM as Warehouse Manager in 2016 – I don't know where 4 years has gone!
Can you give us an overview of your career so far?  
My career first started straight out of college in the Automotive and Machining industry. My journey in Oil and Gas began in 2010 when I worked with bar, mechanical tubing and casing.  I was a warehouse manager for my previous company until the crisis in 2015 when that company closed its doors. I joined SPM the following year.
What's your favourite (and least favourite) day-to-day task?  
My least favourite task is the paperwork that goes along with the job, especially during inventory, although I know how important it is!  My most enjoyable task is ensuring job orders are put together in a timely and efficient manner as there is a real sense of pride when things get done properly.
What made you want to work for SPM?  
There were two factors really. The first was the opportunity for me to learn the piping industry and they second was the family atmosphere that SPM had a strong reputation for.
What is your focus at the moment in your role?  
At the moment I am focused on improving customer service with an emphasis on timely deliveries.  Also, all the new Covid-19 precautions that we are required to implement means that I am responsible for ensuring dealings with customers are extra safe, as well as the incoming and outgoing deliveries.
Where are the opportunities in the US and surrounding region?  
There are lots of upcoming opportunities and exciting projects coming up. I see the greatest opportunities in offshore development and in the Permian Basin in West Texas.
What do you think the future holds for the piping world?  
I believe the future is bright for the piping world!  The oil and gas industry has always had ebbs and flows in business but it always lands on its feet and I believe this will continue for many years to come.
What keeps you motivated at work each day? 
Definitely all of my co-workers!  We have such a great team here in Texas that it is a pleasure to come in to work every day! We all work hard together and for each other.
How do you relax after a hard day's work in the office?  
I enjoy spending time with my family, and we love dining out whenever we can. I have also been known to enjoy a nice scotch in the evening!
If you had to choose another office around the world to work in, which would it be and why?  
I would like to work in Manchester.  I have had the pleasure of meeting a few wonderful co-workers from Manchester who have travelled from Manchester to Texas. Listening to their stories, I would also like to visit the U.K. to see some of the beautiful sights and learn more about its history.  I would love to take in a Premier League game, as well!
What precautions are your team taking against COVID-19?  
We have an open office concept which allows us to easily practice social distancing in the office and we are able to do the same when dealing with the incoming-and-outcoming customers in the warehouse.
How do you think COVID-19 has affected the piping world?  
I believe Covid-19 has had an adverse effect on all businesses and it has certainly put many people in the piping world under pressure here in the US. To be sure, COVID-19 has made it a challenging time for many piping companies.
#Interview #SpecialPipingMaterials #Texas #Houston #SuperDuplex #Duplex #NickelAlloy #Moly #OilandGas #Petrochemical #Desalination #LNG #Piping #Offshore #ExoticPipe #StainlessSteel