Managing Director of Special Piping Materials, Alex Forth, was lucky enough to attend the Duplex World Seminar & Summit in Rotterdam last week.
It was a great place to expand our industry knowledge, forge new relationships and identify future opportunities.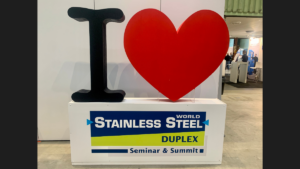 Some of the 'grandfathers' and 'grandmothers' of the industry were there, as well as some new faces. Getting together face-to-face for the first time in a few years proved to be invaluable and we thank the organisers of the Duplex World Seminar & Summit for organising it!
The event itself was held in the former submarine construction yards ('Onderzeebootloods') at the Rotterdam Drydocks 'RDM'. Given that it was a place where submarine ships used to be built in secrecy, it was a fascinating building that provided much source of conversation over the two-day event!
What were the seminars?
The sponsors, speakers and session moderators were of an incredible calibre and included representatives from some of the leading companies and organisations in the duplex world, such as The University of Manchester, TotalEnergies, Outokumpu, Mannesmann and Alleima.
As you would expect from the Duplex World Seminar & Summit, there were some highly interesting talks taking place in the two seminar 'domes'. These included:
 – Opportunities & Challenges for duplex in renewable energy
 – Welding and additive manufacturing
 – Corrosion
 – Manufacturing including casting & Forging
 – Assuring in-service reliability: Enhanced tests and standards for QA/QC
 – Metallurgy of Duplex Stainless Steel
 – Lean Duplex – use and properties
 – New applications of duplex
 – A new era for duplex; promoting and expanding its use globally
These seminars provided some great insight and sparked some very interesting debates and conversations. Check back on our blog over the next few weeks as we'll be exploring some of the topics raised at the event.
When is the next Duplex World Seminar & Summit?
Special Piping Materials will certainly be at the next Duplex World Seminar & Summit in Rotterdam which will be held in 2024. We're already looking forward to it!
#SpecialPipingMaterials #UK #Manchester #UKBusiness #ManchesterBusiness #SuperDuplex #Duplex #NickelAlloy #Moly #OilandGas #Petrochemical #Desalination #LNG #Piping #Offshore #ExoticPipe #StainlessSteel #Hydrogen #stainlesssteelworld #future #opportunities #Learning