In the world of piping there are many weird and wonderful types of fittings, and bespoke flanges are one of these.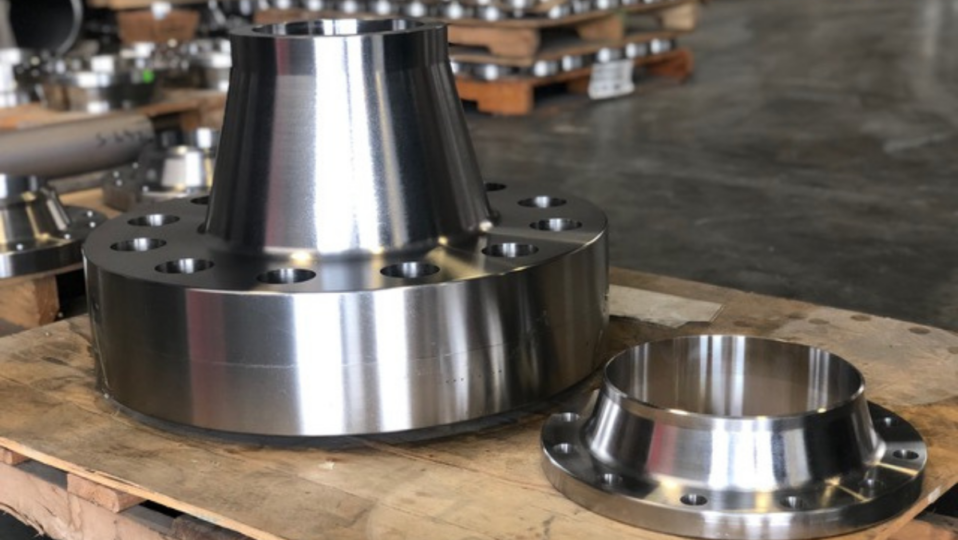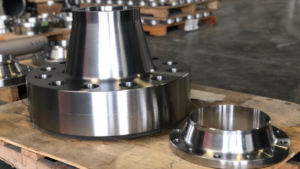 There are many different types of flanges that are suitable for a variety of applications and industries. As well as there being many different types of flanges, each one can also feature various finishes, and adhere to different types of international standards. This is why all of them can be seen as 'bespoke flanges'.
In this blog, we will explore what flanges are, how bespoke flanges can be made, the different finishes available and what they are used for.
The Special Piping Materials teams around the world are able to source bespoke flanges in exotic materials such as duplex, super duplex, nickel alloy and 6% moly – get in touch with your nearest team today!
What are flanges?
Flanges are widely used within pipework systems to connect different components such as valves, pipes, pumps and other equipment.
Usually, flanges are either welded or threaded and two flanges can be connected by bolting them together with gaskets. This provides engineers with easy access to, or the ability to close off different parts of the piping system.
Of course, two metal pipes could be soldered or welded together, but pipes fixed together like this could potentially falter at high pressures. A more secure connection is formed by bolting together two flanged ends. This means that if a high pressure is caused by whatever gas or fluid is inside the pipeline, the flanged pipe is more likely to withstand it.
Applications of flanges
Flanges and bespoke flanges are essential fittings in countless engineering and plumbing projects around the world. They are used in a wide variety of industries such as:
 – Transport
 – Shipping
 – Petroleum
 – Gas
 – Water
 – Manufacturing facilities
 – Nuclear power generation
 – Desalination plants
 – Chemical processing
Materials used to manufacture bespoke flanges
Each flange is chosen to fit a particular pipework system and the material it is made from typically matches that of the surrounding pipes.
The material that each bespoke flange is made from is carefully chosen according to the type of fluid that is passing through them, and the environment they are expected to perform in. This metal could be:
 – Low carbon steel
 – Low alloy steel
 – Stainless steel
 – High alloy steel
 – Non-ferrous steel
Special Piping Materials can source bespoke flanges in many different materials and grades, such as:
 – Carbon Steel: ASTM A105, ASTM A350 LF1/2, ASTM A181
 – Alloy Steel: ASTM A182F1 /F2 /F5 /F7 /F9 /F11 /F12 /F22
 – Stainless Steel: ASTM A182F6 /F304 /F304L /F316 /F316L/ F321/F347/F348
 – Duplex Steel: S31803 / S32205
 – Super Duplex Steel: S32750 S32760
 – Titanium: Grade 1 /2 /3 /4 /5 /7
 – High Nickel Alloy: Monel ASTM / ASME SB 564 400 /K500
 – Inconel: 600 /601 /625 /800 /825 /718
 – Nickel: 200/201
Types of bespoke flanges
Here are some examples of different bespoke flanges that Special Piping Materials can source and stock:
 – Slip-on Flanges. Slip-on flanges are slid onto the pipe before being welded. They are known for being easy to install.
 – Weld Neck Flanges. Weld Neck Flanges have a long-tapered hub that acts as a reinforcement against high pressures and extremes of temperature.
 – Blind Flanges. Blind Flanges do not have a bore and are used to close off piping systems.
 – Spectacle Blind Flanges. Spectacle Blind Flanges are used in pipelines that are permanently separated. Their name comes because they are two plates (one solid, one a ring) connected by a piece of metal that looks like the nose piece of a pair of spectacles.
 – Lap Joint Flanges. Lap Joint Flanges are used in conjunction with a 'Lap Joint Stub End'. They are very similar to slip-on flanges except that have a radius in between the flange face and the bore to accommodate the flanged part of the Stub End.
 – Socket weld flanges. Socket weld flanges are generally not used for 'critical' services and have the objective to reduce the residual pressure at a weld root.
 – Reducing flanges. Reducing flanges are used when the piping system changes in size.
 – Threaded flanges. Threaded (or screwed) flanges are also similar to slip-on flanges, but the threaded flange is bored out so that it matches the inner diameter of the pipe it is attaching to.
 – Square flanges. Square flanges are typically used in hydraulic systems and are used to form connections between pipe-to-pipe and pipe-to-components.
 – Long weld neck flanges. long weld neck flanges are commonly used in environments where there could be high pressure and fluctuating extremes of temperature, such as the oil and gas industry. The 'long neck' acts to guide the pipe into the flange.
 – Weldoflanges or nipoflanges. A weldoflange or nipoflange is a blend of weldolet, nipolet and Welding Neck flanges. On one side (the run pipe), it is looks like a weldolet and on the other side it has a flange connection.
 – Orifice Flanges. Orifice Flanges are used to measure the flow rate of either liquids or gases within the pipeline itself. They are used with orifice meters.
 – High Hub Blind Flanges. High Hub Blind Flanges can seal the end of a pipe structure. It looks like a circular plate with no centre hole, but the necessary bolt holes.
#SpecialPipingMaterials #Energy #EnergySector #OilandGas #Quality #duplex #gas #piping #supplychain #supplier #specialist #quality #flanges