The time has come for our next company update, and this time we have an interview with James Deeney for you, the General Manager of the Special Piping Materials division in Houston, Texas.  
British-born James moved to Texas in 2013 and has never looked back. He is currently taking the company from strength to strength, while of course making sure he keeps up with the UK football fixtures as well! Read on to enjoy this interview with James Deeney.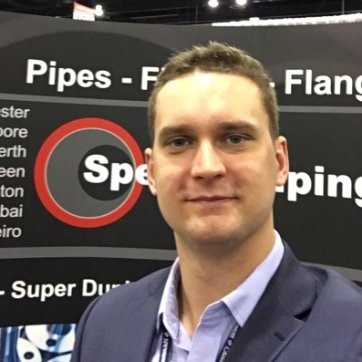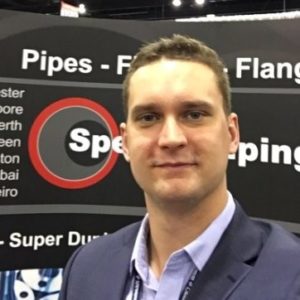 1. How long have you worked at Special Piping Materials?
I joined Special Piping Materials in January 2016 and I was made General Manager in April 2016. I have been with the company just over three and a half years and I can't believe how quickly that time has flown.
     2. Can you give us a brief overview of your career so far?
My entry into the Oil & Gas Industry was by chance rather than design. I studied Architecture in London and graduated in 2009 just as the recession was biting in the Construction Industry. With only a few opportunities in my previously chosen field, I changed tack and joined a Business Development role for an Oil & Gas consultancy. My initial focus was Greenfield offshore construction projects.
In 2013 my job took me to Houston and my focus expanded from offshore projects to include LNG Liquefaction Projects as well. It was in Houston that I was introduced to the Special Piping Materials team, having met them previously at several trade shows. In 2016 I made the switch over to the company, joining initially as a Business Development Manager before later becoming General Manager.
     3. What made you want to work in the piping world?
I worked for several years in the Oil & Gas Industry before I made the move into the piping world. During that time, I came to know that pipes, valves and fittings were at the core of the Industry. Special Piping Materials particularly appealed to me because the company marketed itself well, had a strong USP, and an impressive reputation in the sector.
     4. What is your focus as General Manager at the moment?
Coming from a Business Development background, my eye is always on the pipeline of work that we have coming in. What projects does Special Piping Materials have coming up? Which customers do we need to be meeting? How do we maximise our chances of winning new work and building relationships with current clients? In addition to this sales focus, I am also constantly managing the resources we have to ensure the team can quote, win and deliver current bids and orders.
     5. What stock do you currently have in the Texan warehouse?
Our range continues to expand but we currently stock Duplex (2205 / S31803) and Super Duplex (2507 / S32750) pipe, fittings and flanges between 1/2" and 24". All of these products are of the highest quality in the industry and are sourced from some of the most reputable mills across the world.
     6. Can you give us a brief history of the Texan division?
The Houston office opened in 2008, initially selling overseas stock, but by 2010 it had moved into an office with a warehouse and started to add to its inventory. The following years saw rapid expansion and the completion of many large projects such as Shell Turritella, Angola LNG and TROC.
Fuelled by the successes of these projects the branch outgrew its original warehouse and moved to our current location at 4615 Kennedy Commerce Drive in 2013. Despite a couple of years of disappointing oil prices and a challenging marketplace, the company has continued its commitment to invest in Houston's inventory. Now we have one of the largest inventories of Duplex and Super Duplex pipe, fittings and flanges in North America which is an incredibly exciting position to be in. The current plan is to continue this expansion and to double the size of the warehouse by 2020.
     7. What do you think the future holds for the piping world?
In North America, as oil prices continue to rise, there will continue to be an increase in the CAPEX investment of oil companies to build or expand Oil & Gas, LNG and Petrochemical facilities. We are confident that this will continue to expand the market for us. For our materials, there continues to be new applications and industries moving to Duplex and Super Duplex that will also help our overall growth.
     8. What keeps you motivated at work each day?
I feel fortunate to work in a job that I look forward to coming to each day. There are always projects to chase down, new problems to solve and orders to win – and these are the things that excite me.
     9. How do you relax after a hard day's work in the office?
Football, or soccer as they call it here, is my biggest hobby outside of work. I play a couple of nights a week socially and play 11s at the weekend. I also enjoy watching the UK Premier League at the weekend, despite the fact it starts at 6am!
     10. If you had to choose another office around the world to work in, which would it be and why?
I could easily say any of the offices but if I had to single one out it would be Australia. As well as being an established office with a great team, Perth also has the lifestyle and weather outside of work that really appeals to me.
Thanks for the interview James Deeney!
#Interview #SpecialPipingMaterials #Texas #Houston #HoustonBusiness #SuperDuplex #Duplex #NickelAlloy #Moly #OilandGas #Petrochemical #Desalination #LNG #Piping #Offshore #ExoticPipe #StainlessSteel