Rehan Sheikh has worked for Special Piping Materials for nearly a decade and has been a valuable member of the team for that time.
The Dubai office was opened in 2009 to serve our many customers in the Middle East region. Since conception, the team has supported thousands of clients and worked on countless projects in the petrochemical and oil and gas industries.
Our 10,000 sq. ft warehouse allows us to have a wide range of pipes, fittings and flanges in stock in a variety of exotic materials and we also have the capability of sourcing many custom-made items as well.
Rehan focuses on business development and operations and is led by his experienced General Manager Zishan Ali Khan.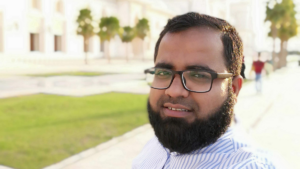 How long have you worked with Special Piping Materials?
I never counted before but realised today that I have completed nine years of service with Special Piping Materials and within a few months it will be a decade!
What role are you currently in?
I try not to keep myself limited in one specific role. However my main task is to manage operations, but I also get involved in sales and business development whenever required.
Can you give us an overview of your career so far?
I started my career at a very young age. I worked for a retail firm owned by TATA Enterprises in Mumbai while completing my last academic year in College.
After finishing my studies, I got an opportunity to explore the Middle Eastern piping industry. I was appointed as Operation Assistant in a Dubai-based firm where I worked for six years and gained a lot of knowledge about the piping world. After other positions elsewhere, in 2011 I got an opportunity to work with Special Piping Materials to manage the operations & warehouse requirements for its newly opened facility in Sharjah (UAE).
What's your favourite (and least favourite) day-to-day task?
My favourite task is interacting with customers and understanding their needs – and of course winning some nice orders! Probably my least favourite task at the moment is following up with the freight forwarders and shipping lines which has become more complicated because of the COVID-19 pandemic. However, even though many of the shipments are affected and delayed we know that it is still very important to figure out how we can execute our orders in a timely manner.
What made you want to work for Special Piping Materials?
I knew Special Piping Materials was one of the world's largest stockholders in exotic grade products and I had never gained any exposure of exotic grades before and therefore I wanted to broaden my knowledge.
After joining Special Piping Materials, I learnt a lot from my manager Zishan who is always supportive and pushes me to reach new heights. A the famous the quote goes: "Every day is a new day to learn, grow and develop your strength!"
I love to implement new ideas in order to increase the productivity and I get great support from Special Piping Materials' wider team and management.
What is your focus at the moment in your role?
During this difficult time while we are all still dealing with the COVID-19 pandemic, my main focus is executing orders in a timely manner and coordinating our efforts with our customers to ensure their projects are completed in good time.
Where are the opportunities in the MENA region?
The MENA region is a very busy place at the moment with many oil & gas expansion projects taking place on a regular basis by major companies like ARAMCO, PDO, ADNOC and Qatar Petroleum.
What do you think the future holds for the piping world?
I think the future of piping world looks bright as major refineries are upgrading their existing 304L & 316L lines with exotic material grades like Duplex and Super Duplex to minimise the potential for corrosion. There are a lot of desalination projects also happening around the world which rely on the piping supply chain.
What keeps you motivated at work each day?
Most certainly it is my team who keep me motivated all the time!
How do you relax after a hard day's work in the office?
I like to spend my time with my daughter and son who always come home with new learnings and projects from school. Family time is so refreshing after a hectic day at work!
If you had to choose another office around the world to work in, which would it be and why?
I think all the offices have a great atmosphere as we all work like one big family. If I had to choose one, I think I would choose the Manchester office and handle Middle Eastern operations as I would understand the customers and technical requirements.
How does SPM's network of agents across the MENA region operate?
Special Piping Materials agents are well established in the piping industry and regularly come to us with new project information and updates. They help us to market our products in their respective territories and also help Special Piping Materials to execute the deliveries.
What precautions are your team taking against coronavirus?
There are few basic precautions laid out by the UAE government which have to be followed, like wearing masks and keeping a safe distance from others. We have also reduced our face-to-face meetings but are hosting more virtual meetings with our customers and suppliers to ensure that we maintain our relationships.
How do you think coronavirus has affected the piping world?
 COVID-19 has not only affected the piping world but every global industry and the economy on a worldwide basis. Everyone is trying hard to overcome this disaster.
The vaccination programmes being carried out give me great hope and I feel that the world will be running smooth once again as before.
#SpecialPipingMaterials #Interview #Dubai #UAE #Team #MiddleEast #Pipe #Fittings #Flanges